Welcome to the website edition of the Mystery Ahead newsletter, with fresh #booknews, thrilling #excerpts, and #reviews of must-read mysteries.
Need to subscribe? CLICK HERE.
#booknews
1. Your vote needed
Would you be interested in a free intro to the forthcoming GALLIANO CLUB series? If so, would you prefer:
A  Prequel story introducing the main characters,
B  The first chapter of the first book, or
C  Who's Who guide to the series.
Just reply to this email with your vote for A, B, or C.
Thank you!
2. Where to find Detective Emilia Cruz and Galliano Club news
If you are looking for the latest news about the forthcoming GALLIANO CLUB series, including the family stories that inspired the books, find it all here: https://carmenamato.net/galliano-club-series.
Not to be outdone, go inside the Detective Emilia Cruz series with my research into Mexican cartels, Acapulco's sand and sin, and more: https://carmenamato.net/the-emilia-cruz-mystery-series
#excerpt
In the upcoming GALLIANO CLUB series, Benny Rotolo is a Chicago hitman who ran afoul of Al Capone and fled to the relative safety of Lido, New York. His breakfast conversation with new friend Al Genovese takes an interesting turn.
—
"Not my problem." Benny rattled the newspaper to signal the conversation was done.
"Like I said, I figure you would know what to do with my information. With what I seen." Genovese was clearly angling for some dough.
Benny started to say the information racket was small potatoes compared to beer and hookers, and that Genovese should shut up and go back to the farm. But then Benny remembered Vinnie Salerno, a sometime pal from Chicago. Big Vinnie always had new suits and expensive dames on his arm. Nobody ever shot at Big Vinnie, neither.
"I know a buddy," Benny said, making up his mind. "He's got this system. Say he's got a friend whose got the goods on somebody but doesn't want to tell the mark direct, just in case they finger him to the cops. So he writes a letter and sticks it in two envelopes, and sends it to my buddy Vinnie. Different post office, is the trick, see?"
"Okay," Genovese said dubiously.
"Vinnie takes the letter in the clean envelope to the post office and mails it to the mark. This way the letter comes from a place the mark don't know at all. It can't get traced, see?" Benny snapped his fingers to make the point. "The mark pays, the friend picks up the dough, and Vinnie gets a cut. Everybody's happy."
"Except the mark," Genovese said.
"That's right," Benny said, pleased that Genovese caught on so fast.
"Do you think your buddy would help?"
"Sure," Benny said. "But Big Vinnie don't work for nothing."
"Okay," Genovese said again.
"You ever been in the information racket before?" Benny asked.
"No," Genovese said. "I have cows."
Benny slurped up more coffee and regarded the cafone across the table. A rookie partner with more brains than Nick and dirt to sell.
This could work out real good.
With Big Vinnie's system, extortion was fool proof. Benny could steal the Galliano Club right out from under Vito Bottini's feet, with Bottini's own money.
—
More about the forthcoming GALLIANO CLUB series here: https://carmenamato.net/galliano-club-series
#review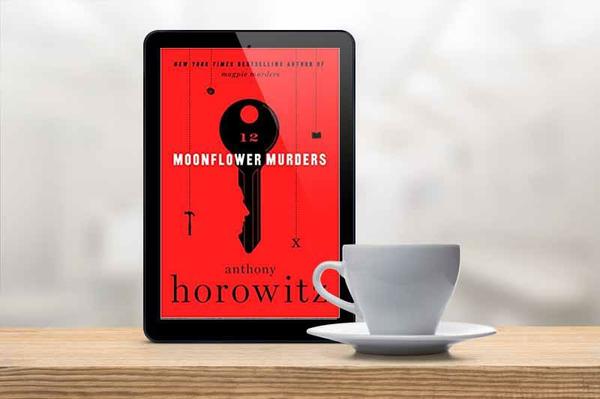 MOONFLOWER MURDERS by Anthony Horowitz
In this sequel to the hugely popular MAGPIE MURDERS, book editor Susan Ryeland must once again confront swarmy bestselling mystery author Alan Conway. But this time, Conway is already dead.
Following the messy collapse of her publishing house thanks to Conway in MAGPIE MURDERS, Susan is the co-owner of a hotel on Crete when she is contacted by the owners of a posh hotel in England. Their daughter has gone missing after claiming that an 8-year-old murder at the hotel sent the wrong man to prison.
Before disappearing, she said that the real killer was revealed in Atticus Pünd Takes the Case, a whodunit featuring Alan Conway's mild-mannered German private detective. The distraught parents convince Susan–as editor of the Atticus Pünd books she knows them better than anyone still alive–to investigate the connection between the novel, the murder, and their missing daughter.
Leaving a shaky personal life behind in Crete, Susan flies to England. Of course, trouble ensues.
Not everyone wants her help. Everyone Susan encounters has something to hide, from the missing woman's sister to the man jailed for murder. The victim gave several people reason to wish him dead and there's a sordid link between him and author Alan Conway.
Susan's contacts try to help, but the real clues may be in Conway's novel.
So when Susan settles down to read it, not as the editor but from the perspective of current events, we do, too.
MOONFLOWER MURDERS is spliced in half by Atticus Pünd Takes the Case, including cover and copyright notice. Basically, we get two novels in one!
Just like Susan, we read Atticus Pünd Takes the Case to find clues. Yet, this Agatha Christie-style whodunit set in the 1950's bears little resemblance to current events. While author Alan Conway was known to hide riddles in his books and many characters are recognizable as real people from the hotel, Susan remains baffled.
But not for long.
The book-within-a-book format is brilliant, making for multiple red herrings, wonderful details, and superb subplots. The character of Atticus Pünd stands with Hercule Poirot. It's easy to imagine this fictional character created by a fictional character coming to life on the screen.
Don't try to guess whodunit in either the current timeline or Atticus Pünd Takes the Case. Just let yourself be carried along.
The writer/creator of BBC television series Midsomer Murders and Foyle's War, Anthony Horowitz is a phenomenal writer. MOONFLOWER MURDERS stands alone, but if you get the chance, start with MAGPIE MURDERS. Highly recommended.
Find MOONFLOWER MURDERS on Amazon
#essentials
Want to get the full version of the Mystery Ahead newsletter in your inbox? CLICK HERE.
List of Carmen's books
Carmen on Facebook
All the best,